Category Archives:
Alice Cooper
Alice Cooper – Alice Cooper Goes to Hell (2008, Warner Bros. Records)
Original Release: 1976, Warner Bros. Records
1. "Go to Hell" … 5:15
2. "You Gotta Dance" … 2:45
3. "I'm the Coolest" … 3:57
4. "Didn't We Meet" … 4:16
5. "I Never Cry" … 3:44
6. "Give the Kid a Break" … 4:14
7. "Guilty" … 3:22
8. "Wake Me Gently" … 5:03
9. "Wish You Were Here" … 4:36
10. "I'm Always Chasing Rainbows" … 2:08
11. "Going Home" … 3:47
Musicians:
Alice Cooper – Vocals
Dick Wagner – Guitar, Backing Vocals
Steve Hunter – Guitar
John Tropea – Guitar
Tony Levin – Bass
Babbitt – Bass
Allan Schwartzberg – Drums
Jim Gordon – Drums
Jim Maelen – Percussion
Bob Ezrin – Keyboards, Backing Vocals
Producer: Bob Ezrin
…Goes to Hell is a weird album. Then again, you can say that about every Alice release up until the albums became more streamlined beginning in the mid-'80s. First off, the album cover is terrible (but still better than Pretties For You!). When I first saw this album years ago at the old Camelot Music store and was just starting to get into Alice, I actually thought it was a low budget compilation disc judging by the pitiful artwork. It certainly had the retail price to go with it. For as long as I can remember this album could and still can be found for $6-8 bucks. I got this particular version (a part of Warner's "Flashback" series) for $5.99 from Barnes & Noble.
I can't lie, the song "Go To Hell" is classic Alice. Years before ever listening to this album I was familiar with it because it appeared on The Life and Crimes of Alice Cooper box set, which I also own. I absolutely love it. It shows Alice in fine lyrical form talking about force feeding diabetics candy canes and poisoning a blind man's dog (and even stealing his cane) After that rip-roaring opening classic we get disco Alice in the form of "You Gotta Dance". It's so bad it's good but I can't call it an album highlight.
The whole album basically sounds like the soundtrack to a musical. It features tons of different styles: disco rock, sappy pop ballads, '50s doo-wop, rock 'n' roll, and weird laid back numbers like "I'm The Coolest". When I hear that song, I can't help but think of it as a song that you might hear on a Charlie Brown or early Garfield cartoon special. If you've ever see'em, you know what I'm talking about, those specials always had weird trippy songs.
Though there are a handful of songs that I found myself enjoying but there are only two classics, IMO. Alongside "Go To Hell", there's "I Never Cry" which is one of my favorite ballads from Alice but it was another song I was already familiar with thanks to the box set. I can't help but try to sing along to it whenever I hear it.
This was the second of four albums (the others being Welcome to My Nightmare, Lace & Whiskey and DaDa) where basically Alice Cooper was more of a conceptual effort with Alice, Dick Wagner and Bob Ezrin guiding the ship. Ezrin already had a long history with the original Alice Cooper band and Wagner had played on some of their albums as well.was technically a solo act by this point but Ezrin and Wagner participated so heavily on these albums you could almost say that they were new Alice Cooper band.
Overall, this is an okay release but certainly not a classic and a pretty disappointing follow-up to Welcome to My Nightmare. Alice didn't even tour for this album due to alcohol problems, which may help explain why this album isn't up to snuff!
Highlights: "Go To Hell", "I Never Cry", "Didn't We Meet", "Wake Me Gently", "Wish You Were Here"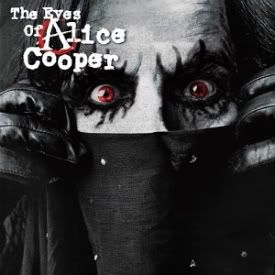 Alice Cooper – The Eyes of Alice Cooper (2003, Eagle Records)
1. "What Do You Want from Me?" … 3:24
2. "Between High School & Old School" … 3:01
3. "Man of the Year" … 2:51
4. "Novocaine" … 3:07
5. "Bye Bye, Baby" … 3:27
6. "Be With You Awhile" … 4:17
7. "Detroit City" … 3:58
8. "Spirits Rebellious" … 3:35
9. "This House Is Haunted" … 3:30
10. "Love Should Never Feel Like This" … 3:32
11. "The Song That Didn't Rhyme" … 3:17
12. "I'm So Angry" … 3:36
13. "Backyard Brawl" … 2:36
Band:
Alice Cooper – Vocals
Eric Dover – Guitar
Ryan Roxie – Guitar
Chuck Garric – Bass
Eric Singer – Drums
Additional Musicians:
Wayne Kramer – Guitar ("Detroit City")
Teddy Zig Zag – Keyboards, Accordion, Percussion
Calico Cooper – Backing Vocals
Scott Gilman – Saxophone, Clarinet
Produced by: Alice Cooper and Mudrock
It took me a few spins to fully get into this album, but its a welcome return to Alice's roots! After producing two albums that were influenced by industrial metal (Brutal Planet and Dragontown), Alice became influenced by the glut of garage rockers that were the critics' darlings in the early '00s and decided to show'em how someone from the old school does it right down to the recording process — most the tracks were recorded in full live and the album was wrapped within two weeks!
The Eyes of Alice Cooper is raw and loose garage rock 'n' roll with some punk thrown in (though "Be With You Awhile" sounds like one of his late-70s ballads you might hear on the radio). There's really not a whole lot of "shock rock" or dark moments like there were on Brutal Planet, Alice is out for a good time and shows it with some of his usual playful & humorous lyrics on "Man of the Year", "Novocaine" and "The Song The Didn't Rhyme". The most macabre-sounding song of the bunch is "This House Is Haunted", which for some reason always makes me think of Disney World's Haunted House ride. Would be cool that have them play THAT while on the ride.
Even though I welcomed Alice's move away from nu-metal with open arms, I can't say this album is any better than his previous two efforts. They are all good albums and worthy additions to his storied career, but different beasts. If you wanna be angry, listen to Brutal Planet. If you just wanna have fun, listen to The Eyes of Alice Cooper.
Highlights: "What Do You Want from Me?", "Novocaine", "Be With You A While", "Detroit City", "Spirits Rebellious", "This House Is Haunted", "Love Should Never Feel Like This", "Backyard Brawl"