Category Archives:
Avantasia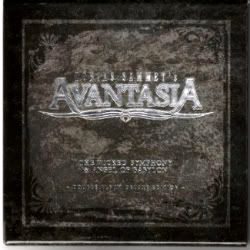 Avantasia – The Wicked Symphony & Angel of Babylon: Double Album Deluxe Edition [Import] (2010, Nuclear Blast Records)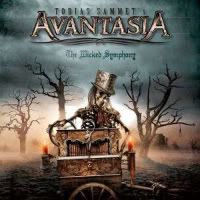 Disc 1: The Wicked Symphony
1. "The Wicked Symphony" … 9:28
2. "Wastelands" … 4:44
3. "Scales of Justice" … 5:04
4. "Dying for an Angel" … 4:32
5. "Blizzard On a Broken Mirror" … 6:07
6. "Runaway Train" … 8:42
7. "Crestfallen" … 4:02
8. "Forever is a Long Time" … 5:05
9. "Black Wings" … 4:37
10. "States of Matter" … 3:57
11. "The Edge" … 4:12
Highlights: "The Wicked Symphony", "Scales of Justice", "Dying for an Angel", "Blizzard On A Broken Mirror", "Runaway Train", "Crestfallen"

Disc 2: Angel of Babylon
1. "Stargazers" … 9:33
2. "Angel of Babylon" … 5:29
3. "Your Love is Evil" … 3:53
4. "Death is Just a Feeling" … 5:21
5. "Rat Race" … 4:07
6. "Down in the Dark" … 4:23
7. "Blowing Out the Flame" … 4:51
8. "Symphony of Life" … 4:30
9. "Alone I Remember" … 4:48
10. "Promised Land" … 4:47
11. "Journey to Arcadia" … 7:12
Highlights: "Stargazers", "Death Is Just A Feeling", "Rat Race", "Blowing Out The Flame", "Symphony Of Life", "Alone I Remember", "Promised Land"
Musicians:
Tobias Sammet – Lead Vocals, Bass
Russell Allen, Jorn Lande, Michael Kiske, Tim "Ripper" Owens, Klaus Meine, Andre Matos, Bob Catley, Ralf Zdiarstek, Jon Oliva, Cloudy Yang, Oliver Hartmann – Guest Vocals
Sascha Paeth, Bruce Kulick, Oliver Hartmann, Henjo Richter – Guitar
Miro Rodenberg – Keyboards, Orchestration
Sascha Paeth, Jens Johansson – Keyboards
Simon Oberrender – Organ
Felix Bohnke, Alex Holzwarth, Eric Singer – Drums
Producer: Sascha Paeth & Tobias Sammet
An epic collection featuring two epic albums! This deluxe edition collects both of Avantasia's 2010 releases plus features a fairly lengthy booklet full of pictures and notes on the making of the albums. This time, instead of pure laziness, I actually had a good reason for not reviewing this set when I initially planned… it was just too much to absorb at once!
For some strange reason, unlike The Wicked Symphony, Angel of Babylon has not been released as a single disc in the United States although it is available as an import. I bought this collection on Amazon shortly after the street date because it turned out it was cheaper than having to order both albums separately because Angel of Babylon's import price was ridiculous at the time. This collection itself is actually an import (some of the text of my particular copy's cellophane wrap was in Spanish) and it was retailing for $60-70 at most online shops when I first looked. YIKES!!! There are some very good deals to be found for it in Amazon's Marketplace though, that's how I got my copy and only paid$27 for it.
The very first thing I think of when I think of Avantasia are the amazing vocals that are always involved. Of course there's Tobias Sammet, who is one of my favorite metal vocalists but Jorn Lande, Michael Kiske and Russell Allen shine on both albums just as they did on The Scarecrow. Jorn is featured on so many of these songs he might as well be considered a full-time member of Avantasia alongside Tobias. A Sammet/Lande album, anyone? And that's not all! Klaus Meine, Tim "Ripper" Owens and Jon Oliva make appearances as well.
To this day I still have not heard the first two Avantasia albums. Some have complained that Tobias has taken the music in a slightly different direction, which is his prerogative since Avantasia is a side-project and a labor of love after all. Actually… Now that I think about it, if anything, I think Avantasia has become a bigger focus for Tobias than Edguy has been lately. Even so, the line has been blurred and both groups are becoming a bit interchangeable in sound. Not that I'm complaining, I like the direction both bands are headed in: great melodies, huge fantastic vocals, big drums, a bit of pop music, some '80s hard rock, catchy choruses. Not many can do melodic power metal better than this.
I leaned towards The Wicked Symphony when I first bought this collection but after giving both albums many spins, I think I like Angel of Babylon better. There's really no filler on that album at all. Either way, both are better than The Scarecrow (which I liked) and are two of 2010′s better albums!

Avantasia – The Scarecrow (2008, Nuclear Blast Records)
Track Listing:
1. "Twisted Mind"
2. "The Scarecrow"
3. "Shelter from the Rain"
4. "Carry Me Over"
5. "What Kind of Love"
6. "Another Angel Down"
7. "The Toy Master"
8. "Devil in the Belfry"
9. "Cry Just a Little"
10. "I Don't Believe in Your Love"
11. "Lost in Space"
Band:
Tobias Sammet – Vocals, Bass
Sascha Paeth – Guitars
Eric Sing – Drums
I just got into Edguy about 2 years ago. I was looking for CDs at FYE and stumbled across Rocket Ride. A sticker on the cover said something like "for fans of Scorpions, Judas Priest, and KISS". It was only $10 or so, so I picked it up. I loved it, I went and bought more Edguy and loved those albums too. So here I am now, a loyal follower of Edguy frontman Tobias Sammet, so I picked up his latest solo project's offering.
Avantasia, for all intents and purposes, is basically Sammet himself writing the songs and then bringing in friends to play and share vocals on it. This is the third Avantasia release, I've only head bits and pieces of the first two (The Metal Opera and The Metal Opera Part II) but I've never gotten around to getting them.
Anyway, I heard "Lost in Space" and "Carry Me Over" online and that was enough to make me want this album. A lot of fans are claiming Sammet "sold out" with his look and a few songs here (most notably the two I mentioned), the're saying he's trying to be the next Bon Jovi. Tobias has addressed these complaints and dismissed them. What's wrong with writing catchy rock/pop songs? It's not like there's not enough metal to go around on the rest of the album.
I knew upon a second listening to this album when it was originally release that it was already going to be one the year's best, despite that fact that it was released in January. You simply have to hear "The Scarecrow" is one of the most epic and awesome songs ever, seriously, I think it's one of the greatest songs EVER. It gives me chills, especially Jorn Lande's vocals. Amazing job.
Sammet has become one of my favorite vocalists as well. I was listening to an early Edguy album a few weeks ago and he's really grown as a singer. Soaring vocals, man!
Guest appearances abound! Just to name a few: Rudolf Schenker, Kai Hansen, Michael Kiske, Jorn Lande, and Alice Cooper.
Highlights: "Twisted Mind", "The Scarecrow", "Carry Me Over", "What Kind of Love" (which I can picture on a soundtrack for some Disney animated movie), "The Toy Master" (with Alice Cooper vocals, it would easily fit on his Hey Stoopid album), "Devil in the Belfry", "Lost in Space"