Category Archives:
Creed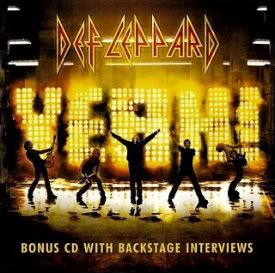 Def Leppard – Yeah! Bonus CD with Backstage Interviews [Walmart Exclusive] (2006, Mercury Records/Island Records]
1. "American Girl" – Tom Petty … 3:34
2. Backstage Interview #1 … 3:12
3. "Search & Destroy" – The Stooges … 3:27
4. Backstage Interview #2 … 2:01
5. "Space Oddity" – David Bowie … 5:28
6. Backstage Interview #3 … 2:43
7. "Dear Friends" – Queen … 1:28
8. "Heartbeat" – Jobriath … 2:45
Band:
Joe Elliott – Lead Vocals, Guitar, Bass, Piano, Percussion ("American Girl", "Space Oddity", "Heartbeat")
Phil Collen – Guitar, Lead Vocals, Bass, Drums ("Search & Destroy")
Vivian Campbell – Guitar, Backing Vocals ("American Girl")
Rick Savage – Bass, Lead Vocals, Guitar, Drums ("Dear Friends")
Rick Allen – Drums (???)
Additional Musicians:
Marc Danzeisen – Drums ("American Girl")
Jesse Sheely – Backing Vocals ("American Girl")
Producer: ?
I considered updating the entry of Yeah!, just tacking this on at the end, but the more I thought about it the more I thought Walmart's exclusive bonus CD to Yeah! deserved its own entry. Despite being called a "bonus", it was sold separately for $6 and was released the same time as Yeah! and it is basically an EP that features 5 additional cover songs plus a three-part interview regarding the album and the band's recent tours. I didn't realize this bonus CD even existed until after buying the main album at Target, but a few months back, copies of this CD appeared at Walmart for only $3 (What, did they come across a forgotten box of this CD in their stockroom?) and I couldn't pass it up.
For some weird reason, none of the songs here were recorded by the whole band. Joe Elliott and Vivian Campbell collaborated on "American Girl" but as for the rest, only one Def Leppard member appears. Kind of odd. Information as to who played what seems to be limited.
For what they are though, the songs are enjoyable. "American Girl" is fairly faithful, but I'm sick of everyone covering this song. I've never heard of Jobriath, but Joe Elliott's cover of their song "Heartbeat" is my favorite song here.
Nothing essential here really and the interview is fairly standard stuff giving the album some back story, but since I'm a big fan of Yeah!, this was well worth the $3.
Highlights: "American Girl", "Space Oddity", "Heartbeat"
www.defleppard.com
www.myspace.com/defleppard
Creed – Weathered (2001, Wind-up Records)
Track Listing:
1. "Bullets" … 3:49
2. "Freedom Fighter" … 2:36
3. "Who's Got My Back?" … 8:25
4. "Signs" … 4:29
5. "One Last Breath" … 3:58
6. "My Sacrifice" … 4:54
7. "Stand Here With Me" … 4:17
8. "Weathered" … 5:30
9. "Hide" … 4:27
10. "Don't Stop Dancing" … 4:33
11. "Lullaby" … 3:04
Band:
Scott Stapp – Vocals
Mark Tremonti – Guitar, Bass
Scott Phillips – Drums, Keyboards
Additional Musicians:
Aimee Stapp – Background Vocals ("Don't Stop Dancing")
Produced by: Kirk Kelsey & Creed
My hatred for Creed (and Scott Stapp) knows no bounds. So I surprised myself when I went out and bought Weathered. Previously, I had friends and a girlfriend who were obsessed with this band and their first two albums, which to me, embodied everything that was wrong with rock music at the time. Creed were the poster boys for the extremely bland genre of post-grunge rock (Nickelback have since taken that honor).
There was and is an arrogance about Scott Stapp, a supposed Christian who always did the "Jesus on the Cross" pose while in concert (seriously, I saw them once in 2000 and he just stood there with his arms out the whole time) and in videos. He probably does it when he's in the shower too to make sure his armpits get a good cleaning. So really, Scott Stapp was my big issue with Creed on a personal level because his "holier than thou" attitude really got to me (even their bassist quit before this album started recording because he couldn't handle Stapp's ego any longer).
So why, oh why, would I pick this album up not liking their previous music and having a strong dislike to their singer? Well, I'm a big wrestling fan, I watch it every week and WWE was using Creed's lead single "My Sacrifice" for a series of videos at the time and I actually liked the song!
This album is another bit of a time capsule for me as I heavily listened to it upon it's release and on my way back up to Winchester, Virginia, from Florida to live and go to college (I lasted a full semester before getting homesick and taking my butt back home to my family). That was a dark time in my life as far as being on my own and having relationship problems with girls and friends (over girls). A song like "One Last Breath" really spoke to me at the time and is pretty powerful stuff that summed up how I feeling at the time.
Anyway, so a band that I usually hated actually turned out something decent. "My Sacrifice" I guess is your typical inspirational Creed song, but I actually thought it was catchy this time around and "Bullets" kicks off the album to a great raging start.
To be honest, I haven't listened to this album in years, I just picked it randomly to listen to today, but the stuff I remember as being good still holds up, and the lame stuff is still lame. Decent effort all around. I don't know, I just thought this album was catchier and rocked better then their previous efforts, and I was HUGE Creed hater.
One of the worst album covers of all time though, it looks like something *I* could do in Photoshop.
Highlights: "Bullets", "Who's Got My Back?", "One Last Breath", "My Sacrifice", "Hide"
Lowlights (It's Creed, one of my mortal enemies, I had to bring it back just for them): "Weathered", "Don't Stop Dancing"
www.creed.com
www.myspace.com/officialcreed
Posted in Collection, Creed
Tags: Alter Bridge, Alternative, Alternative Metal, Alternative Rock, Creed, Grunge, Grunge Rock, Hard Rock, Heavy Metal, Mark Tremonti, Metal, Music, Rock, Rock & Roll, Rock 'N' Roll, Scott Stapp