Category Archives:
Motorhead
Motorhead – The World Is Yours [Bonus DVD] (2011, UDR/Motorhead Music)
1. "Born to Lose" … 4:01
2. "I Know How to Die" … 3:19
3. "Get Back In Line" … 3:35
4. "Devils In My Head" … 4:21
5. "Rock 'n' Roll Music" … 4:25
6. "Waiting For The Snake" … 3:41
7. "Brotherhood Of Man" … 5:15
8. "Outlaw" … 3:30
9. "I Know What You Need" … 2:58
10. "Bye Bye Bitch Bye Bye" … 4:04
Bonus DVD: Live at Wacken 2006
1. "Doctor Rock"
2. "Love Me Like A Reptile"
3. "Killers"
4. "In The Name Of Tragedy"
5. "Dancing On Your Grave"
6. "Fast And Loose"
Band:
Lemmy Kilmister – Vocals, Bass
Philip Campbell – Guitar
Mikkey Dee – Drums
Producer: Cameron Webb
While I enjoyed Motorizer at the time of its release, in hindsight I don't think the album is anything great. So when The World Is Yours was announced, it wasn't something I was incredibly excited for but I still planned on picking it up. There's been a lot of buzz regarding this album with many sources saying this is Motorhead's time to shine. While I'm not quite sure I agree that the world belongs to Motorhead at this moment, this is certainly a fine album to release with so many eyes upon the band and Lemmy thanks to the Lemmy documentary. In some editions, there is a bonus DVD featuring six songs from the band's performance at Wacken in 2006.
This album has definitely grabbed me more than Motorizer did. There just seems to be more energy this time around even though the album is still the same ol' mix of heavy metal, punk and rock 'n' roll that the band has been putting out for decades. The album opens with the roaring "Born To Lose", a perfectly titled Motorhead song if there ever was one. Other highlights are "Get Back In Line", "Rock 'n' Roll Music" and "Bye Bye Bitch Bye Bye" all of which display some ol' fashioned blues-based rock 'n' roll. My favorite song out of the bunch is the sinister and powerful sounding "Brotherhood Of Man" which reminds me of Metallica in a way.
What can I say? If Motorhead has never worked for you before, they probably won't now but 65 years into his life Lemmy is still putting out great rock 'n' roll and I can't imagine Motorhead being disappointed with The World Is Yours! He's a true icon in the music business.
Highlights: "Born To Lose", "Get Back In Line", "Rock 'n' Roll Music", "Waiting For The Snake", "Brotherhood Of Man", "Bye Bye Bitch Bye Bye"
http://www.imotorhead.com/
http://www.facebook.com/pages/Motorhead/8079594657
Buy 'The World Is Yours' at Amazon.com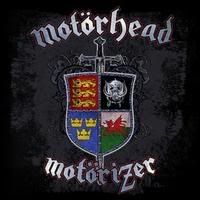 Motorhead – Motorizer (2008, Steamhammer Records/SPV Records)
Track Listing:
1. "Runaround Man" … 2:57
2. "(Teach You How To) Sing the Blues" … 3:03
3. "When the Eagle Screams" … 3:44
4. "Rock Out" … 2:08
5. "One Short Life" … 4:05
6. "Buried Alive" … 3:12
7. "English Rose" … 3:37
8. "Back on the Chain" … 3:24
9. "Heroes" … 4:59
10. "Time is Right" … 3:14
11. "The Thousand Names of God" … 4:33
Band:
Lemmy Kilmister – Vocals, Bass
Phil Campbell – Guitar, Backing Vocals
Mikkey Dee – Drums
Produced by: Cameron Webb
Ah! My first Motorhead purchase! And it's a good one. This is a band I've been meaning to get into for awhile and I'm enjoying this album. I've seen differing opinions on it though. Some says it's great, some say it sucks, but most are saying it "more of the same" (but meaning it in a positive way).
Before I knew this was coming out, I actually was thinking about getting their last album, Kiss of Death and will probably do so, then jump back to the early stuff.
So, I can't say how this ranks compared to other Motorhead albums, but this is good heavy metal and I've been listening to it nonstop lately and I wouldn't be surprised to see it make my Best of '08 list.
Highlights: "Runaraound Man", "(Teach You How To) Sing the Blues", "When the Eagle Screams", "One Short Life", "Heroes", "Time is Right", "The Thousand Names of God"
www.imotorhead.com
www.myspace.com/motorhead
Posted in Collection, Motorhead
Tags: AOR, Classic Rock, Glam, Glam Metal, Glam Rock, Hair Metal, Hard Rock, Heavy Metal, Lemmy, Metal, Motorhead, Music, NWOBHM, Punk Metal, Rock, Rock & Roll, Rock 'N' Roll, Thrash Metal