Category Archives:
Sammy Hagar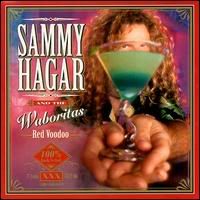 Sammy Hagar and the Waboritas – Red Voodoo (1999, MCA Records)
Track Listing:
1. "Mas Tequila" … 4:11
2. "Shag" … 3:34
3. "Sympathy for the Human" … 4:48
4. "Red Voodoo" … 3:49
5. "Lay Your Hand on Me" … 4:09
6. "High and Dry Again" … 5:35
7. "The Revival" … 3:39
8. "Don't Fight It (Feel It)" … 3:11
9. "The Love" … 4:07
10. "Right on Right" … 5:22
11. "Returning of the Wish" … 5:54
Band:
Sammy Hagar: Vocals, Guitar
Victor Johnson: Guitar, Backing Vocals
Mona: Bass, Backing Vocals
David Lauser: Drums, Backing Vocals
Jesse Harms: Keyboards, Backing Vocals
Additional Musicians:
Roy Rogers – Guitar
Tower of Power Horn Section – Horns
Produced by: Sammy Hagar & Jesse Harms
I've always had a problem getting into Hagar's solo stuff. Great voice and a great guy from what it seems, but in my opinion, his solo material quality has never matched the his voice quality.
There's definitely some good songs on here though, even if half the album is filler. "Mas Tequila" is incredibly infectious (and I don't even drink!), "High and Dry Again" is a Hagar-penned AC/DC song practically, and "The Love" would've fit right at home on Van Halen's OU812 or For Unlawful Carnal Knowledge.
I was pretty excited about this album (Sammy's first with the Waboritas) because I had really become a huge Van Halen a few years earlier, but I remember being very letdown after hearing this.
VH1 endlessly hyped the album through their lame late night 'VH1 Rock Show' because "Mas Tequila" seemed to be one of the few videos the show aired (I remember Fuel's "Shimmer" being another constant).
Highlights: "Mas Tequila", "Shag", "Lay Your Hand on Me", "High and Dry Again", "The Love", "Returning of the Wish"
www.redrocker.com
www.myspace.com/sammyhagar