Category Archives:
Trans-Siberian Orchestra
Trans-Siberian Orchestra – Dreams of Fireflies (On a Christmas Night)
2012, Universal Republic Records
1. Winter Palace
2. Dreams of Fireflies (On a Christmas Night)
3. I Had A Memory
4. Someday
5. Time You Should Be Sleeping
Though TSO has remained a popular and thriving annual holiday season touring group since their inception, it's been 8 years since they've released any new holiday music (their last release, Night Castle, featured their usual brand of symphonic/progressive rock but was a concept album that had nothing to do with Christmas).
As has become standard with TSO, I find myself enjoying the instrumentals much more than I do the songs with vocals. TSO always uses great singers but sometimes I feel like the vocals just make the songs way too pompous for their own good. So, it's no surprise that my two favorite tracks on the album are the two instrumentals: "Winter Palace" and "Dreams of Fireflies (On a Christmas Night)". They are classic TSO songs. Great, heavy and upbeat Christmas tunes.
The remaining three tracks are the typical somber and sentimental ballads that TSO (over)fill their albums & live shows with. Decent tracks but as I've said, it's the instrumentals where TSO really gets to flex their metal muscles. I recommend this EP for all TSO fans and fans of Christmas music in general. I'm hoping this is just a holdover to help promote the group's 2012 winter tour and that a full album of Christmas music will be coming in 2013.
Having seen TSO twice (during their 2009 winter tour and again for their Beethoven's Last Night 2011 tour), I was hoping they would be hitting my area again this year but no such luck.
Highlights: "Winter Palace", "Dreams of Fireflies (On a Christmas Night)"
www.trans-siberian.com
www.facebook.com/TSO
Buy the album at Amazon.com

Trans-Siberian Orchestra
4/27/11
Pensacola Civic Center in Pensacola, Florida
My second time seeing TSO and understandably the show was a bit scaled back compared to what they do on their winter tours. Oh, don't worry, they still have the full orchestra and band, smoke, fire, lazers, video screens, etc. It was just a smaller stage than when I saw them back in 2009 and that's not because the Civic Center couldn't handle a full show. As far as I know, the "Beethoven's Last Night Tour" is the group's first non-holiday tour so while they can pack 'em in during the holidays, they were probably just being cautious as to how well this tour will be received. I was actually a bit surprised to see them only making use of about a fourth of the arena. It was packed though so I would estimate around 3,000 people were there since the entire arena holds up to 12,000.
Obviously, being called the "Beethoven's Last Night Tour", the majority of the evening was devoted to the Beethoven's Last Night album that was released in 2000 (which was their first non-holiday album). I have never heard that album in its entirety but I think anyone who is a fan of their holiday shows would also enjoy the music here. It's all done in the same rock/metal/classical style,  it just isn't about Christmas.
I knew Beethoven's Last Night probably wasn't going to be the whole show and luckily it wasn't. For the encore, things got a bit heavier as the band played a few numbers from Night Castle and also a few Savatage songs as well ("Sleep" and "Chance"). The Beethoven was filled with tons of great songs but I really like all the encore numbers just because they were much heavier and darker. That's when TSO really showed their heavy metal roots and reminded you that without Savatage, TSO may have never existed.
As for the performances, of course everyone was spot-on all night long. The core of Trans-Siberian Orchestra is Savatage so there was Al Pitrelli & Chris Caffery on guitar, Jeff Plate on drums and Johnny Lee Middleton on bass. I gotta say it was great seeing Pitrelli live, that guy is a monster (as one point during the Beethoven part of the show, he stopped to play a little Hendrix). The last time I saw TSO it was Caffery & Skolnick. Also, another highlight was seeing THE Jeff Scott Soto in person. He played the part of Mephistopheles and what a voice! He also came out for the encore and sang "Another Way You Can Die". Two other great vocalists I should point out are Rob Evan (who played Beethoven) and Andrew Ross. Narrator Bryan Hicks did a tremendous job as well.
All the other musicians were fantastic like violinist Roddy Chong and all the female vocalists were mind-blowingly good (and sexy!) as well. Everyone is worth mentioning by name but you must forgive me because I can't seem to find any tour credits at this moment.
While the entire Beethoven album is littered with many great songs, I have to say the encore is what I liked best. I love it when TSO gets fast and furious and heavy and that did definitely that. And it's a good thing they chose to close the show with a cover of Savatage's "Chance" because that song is an absolute show-stopper. Everyone came out on stage and it was a great way to cap off the night.
Set List:
Overture
Midnight
Fate
What Good This Deafness
Mephistopheles
What Is Eternal
Mozart and Memories
Vienna
Mozart / Figaro
The Dreams of Candlelight
Requiem (The Fifth)
The Dark
Für Elise
After the Fall
A Last Illusion
This Is Who You Are
Beethoven
Misery
Who Is This Child
A Final Dream
Encore:
Toccata – Carpimus Noctem
The Mountain
Sleep
Better Listen To This
Another Way You Can Die
Carmina Burana
Chance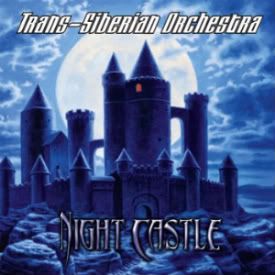 Trans-Siberian Orchestra – Night Castle (2009, Atlantic Records)
DISC 1
1."Night Enchanted" (5:46)
2. "Childhood Dreams" (4:25)
3. "Sparks" (6:00)
4. "The Mountain" (4:53)
5. "Night Castle" (3:57)
6. "The Safest Way Into Tomorrow" (4:57)
7. "Mozart And Memories" (5:16)
8. "Another Way You Can Die" (3:54)
9. "Toccata-Carpimus Noctem" (4:01)
10. "The Lion's Roar" (4:35)
11. "Dreams We Conceive" (5:12)
12. "Mother And Son" (0:40)
13. "There Was A Life" (9:35)
DISC 2
1. "Moonlight And Madness" (5:04)
2. "Time Floats On" (3:37)
3. "Epiphany" (10:56)
4. "Bach Lullaby" (0:49)
6. "Father, Son & Holy Ghost" (6:48)
7. "Remnants Of A Lullaby" (3:10)
8. "The Safest Way Into Tomorrow (Reprise)" (1:43)
9. "Embers" (3:53)
BONUS TRACKS
10. "Child Of The Night" (3:29)
11. "Believe" (6:12)
12. "Nutrocker" (4:07)
13. "Carmina Burana" (2:44)
14. "Tracers" (05:47)
Selected Musicians:
Jay Pierce, Tim Hockenberry, Jeff Scott Soto, Rob Evan, Jennifer Cella, Alexa Goddard, Valentina Porter – Lead Vocals
Paul O'Neill, Chris Caffery, Angus Clark, Alex Skolnick, Al Pitrelli, Dave Wittman – Guitars
Chris Altenhoff, Johnny Lee Middleton, Dave Wittman – Bass
John O. Reilly, Jeff Plate, Dave Wittman – Drums
Robert Kinkel, Jon Oliva, Luci Butler, Shih-Yi Chiang, Derek Wieland – Keyboards
Roddy Chong, Anna Phoebe – Violin
Producer: Paul O'Neill & Robert Kinkel
After having seen TSO in concert, I was pretty hyped up on them and bought this album when it came out. They played a number of these songs during the second half of the concert and I loved it because many of these numbers are dark and certainly heavier than their usual Christmas-inspired songs. Sadly, I don't think this side of TSO will catch on if crowd reaction was any indication on the night I intended. The first act was Christmas, the second act was entirely from this album, I believe, and a small number of people walked out once it was apparent the holiday music was over.
Points to mastermind Paul O'Neill and the rest for having the guts to try something different again and not rely on Christmas. A TSO Christmas album is basically guaranteed to go platinum, but I think gold is a nice goal for this particular album.
The problem I have with TSO is that I think they do too many slow and soft numbers. I don't like those at all, I zone out. Heavy and faster numbers like "Night Enchanted" and "Another Way You Can Die" are really fun though and I think those two songs maybe some the heaviest songs they've done yet as they flirt with heavy metal. "Night Enchanted" is a great way to kick off the album and let people know "this isn't Christmas". I'm sure there's some concept behind this album, but I don't really care about it. In fact, when it comes to concept albums, the more the story is thrown into my face, the less I care about the album.
In what (I think) is a first, TSO covers Savatage: "The Mountain" is a reworking of "Prelude to Madness" from Hall of the Mountain King, bonus track "Believe" is from Streets: A Rock Opera, parts of "The Lion's Roar" were taken from "Temptation Revelation" also from Streets: A Rock Opera, "Mozart and Memories" was originally "Mozart and Madness" from Gutter Ballet.
The packaging features some pretty cool illustrations from Greg Hildebrandt. I recognized the artwork from the concert and this album thanks to his days illustrating the Marvel Masterpieces trading card series back in the '90s!
The first disc is definitely my favorite of the two. That's where the faster, heavier, harder songs lie. Disc two is almost entirely ballads, though all of the bonus tracks are really good.
Definitely a good album, but it's an exhaustive listen with way too many slow moment. I wish they would release a 100% symphonic rock album and leave the ballads at home. I would also love for Jon Oliva to sing a tune as well since he helps write a lot of the music anyway.
Highlights: "Night Enchanted", "The Mountain", "Night Castle", "Mozart and Memories", "Toccata-Carpimus Noctem", "Moonlight and Madness", "Child of the Night", "Nutrocker", "Carmina Burana", "Tracers"
Posted in Trans-Siberian Orchestra
Tags: Al Pitrelli, Alex Skolnick, Chris Caffery, Christmas, Christmas Music, Christmas Rock, Hard Rock, Heavy Metal, Jon Oliva, Metal, Music, Paul O'Neill, Progressive Metal, Progressive Rock, Rock, Rock 'N' Roll, Savatage, Symphonic Metal, Symphonic Rock