Blog Archives
Rainbow – Down to Earth [Remastered] (1999, Polydor Records)
Original Release: 1979, Polydor Records
1. "All Night Long" … 3:49
2. "Eyes of the World" … 6:39
3. "No Time to Lose" … 3:41
4. "Makin' Love" … 4:36
5. "Since You Been Gone" … 3:16
6. "Love's No Friend" … 4:51
7. "Danger Zone" … 4:27
8. "Lost in Hollywood" … 4:51
Band:
Graham Bonnet – Vocals
Ritchie Blackmore – Guitar
Roger Glover – Bass
Cozy Powell – Drums
Don Airey – Keyboards
Produced by: Roger Glover
Don't get me wrong, I like Dio-era Rainbow, but it's their more AOR/commercial-minded efforts that I enjoy most. I'll put the slick mainstream hard rock of "Since You Been Gone", "Street of Dreams" and "Stone Cold" against anything they did when Ronnie James Dio was in the band.
And Dio wasn't the only Rainbow member to exit the band: Bob Daisley and David Stone were replaced by former Deep Purple bandmate Roger Glover and keyboardist Don Airey. With journeyman Cozy Powell on the drums, this is an incredibly strong line-up.
It's a shame things didn't work out with Graham Bonnet (this is his only Rainbow album) because he's a fantastic vocalist turning in some great performances on "Makin' Love", "Eyes of the World" and "No Time to Lose" especially.
The sound is different from the medieval so-called "dragon rock" of the Dio years, but as far as I'm concerned this is another classic release and is fantastic from start to finish it… even if my woman said she didn't like it and "they should like they're trying to be KISS".
I love the album's cover. It's so very 70s and happy thanks to the use of the cosmic rainbow. =-) It would be the last Rainbow album to feature a rainbow on the cover though. =-(
Highlights: All of it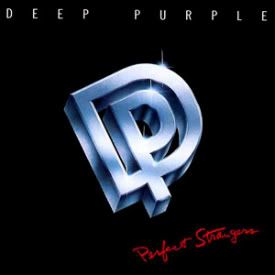 Deep Purple – Perfect Strangers [Remastered] (1999, Mercury Records)
Original Release: 1984, Mercury Records
1."Knocking at Your Back Door" … 7:04
2."Under the Gun" … 4:38
3."Nobody's Home" … 3:59
4."Mean Streak" … 4:21
5."Perfect Strangers" … 5:28
6."A Gypsy's Kiss" … 5:12
7."Wasted Sunsets" … 3:55
8."Hungry Daze" … 4:58
9."Not Responsible" … 4:47
BONUS TRACK
10."Son of Alerik" … 10:07
Band:
Ian Gillan – Vocals
Ritchie Blackmore – Guitar
Roger Glover – Bass
Jon Lord – Organ, Keyboards
Ian Paice – Drums
Produced by: Deep Purple
I bought this album close to 10 years ago basically just for "Knocking at Your Back Door". I ended up liking "Perfect Strangers" as well, but quickly disregarded the rest of the album. It was nothing more to me than bad 70s keyboard/organ heavy rock. That was then, this is now and this album rocks!
I've become much more easy going when it comes to 70s hard rock/metal acts like Rainbow, Black Sabbath and Deep Purple (all three of these bands kinda ran in the same circles, didn't they). After initially passing this album off as an oddity for something released during the 80s, I can now appreciate the "classic" sound Deep Purple brought to this comeback release. In striving to to match their "classic" sound, Deep Purple ended up putting out something in 1984 that didn't really sound like anything else going on at the time and as much as I love the 80s, that's really cool of them and it payed off in a big way.
This would be the popular "Mark II" line up of the band making the comeback. Deep Purple hadn't released an album since 1975 and the Mark II grouping hadn't released one since 1973. The reunion was a success with the album reaching #6 on the Billboard charts and the subsequent tour selling out. The album went on to go platinum in the States and double platinum in the UK.
The 1999 remastered version features the instrumental bonus track "Son of Alerik" which previously had only been released as a B-side to the "Perfect Strangers" single.
Highlights: "Knocking at Your Back Door", "Under the Gun", "Mean Streak", "Perfect Strangers", "A Gypsy's Kiss", "Wasted Sunsets", "Hungry Daze", "Not Responsible"
www.deeppurple.com
www.myspace.com/deeppurple
Posted in Deep Purple
Tags: Classic Rock, Deep Purple, Hard Rock, Heavy Metal, Ian Gillan, Ian Paice, Jon Lord, Metal, Music, Ritchie Blackmore, Rock, Rock & Roll, Rock 'N' Roll, Roger Glover