Blog Archives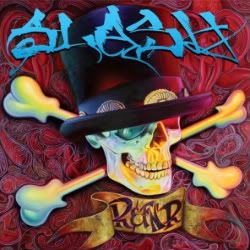 Slash (2010, EMI Label Services/Dik Hayd Records)
1. "Ghost" … 3:34
2. "Crucify the Dead" … 4:04
3. "Beautiful Dangerous" … 4:35
4. "Back from Cali" … 3:35
5. "Promise" … 4:41
6. "By the Sword" … 4:50
7. "Gotten" … 5:05
8. "Doctor Alibi" … 3:07
9. "Watch This Dave" … 3:46
10. "I Hold On" … 4:10
11. "Nothing to Say" … 5:27
12. "Starlight" … 5:35
13. "Saint is a Sinner Too" … 3:28
14. "We're All Gonna Die" … 4:30
Musicians:
Slash – Guitar
Duff McKagan – Bass (Track 9)
Lemmy Kilmister – Vocals, Bass (Track 8 )
Chris Chaney – Bass (Tracks 1-8, 10-14)
Dave Grohl – Drums (Track 9)
Josh Freese – Drums (Tracks 1-8, 10, 11, 13, 14)
Leonard Castro – Percussion (Tracks 1, 3-7, 10, 14)
Izzy Stradlin – Guitar (Track 1)
Eric Valentine – Piano, Keyboards
Ian Astbury – Vocals (Track 1)
Ozzy Osbourne – Vocals (Track 2)
Fergie – Vocals (Track 3)
Myles Kennedy – Vocals (Tracks 4 & 12)
Chris Cornell – Vocals (Track 5)
Andrew Stockdale – Vocals (Track 6)
Adam Levine – Vocals (Track 7)
Kid Rock – Vocals (Track 10)
M. Shadows – Vocals (Track 11)
Rocco DeLuca – Vocals (Track 12)
Iggy Pop – Vocals (Track 13)
Producer: Eric Valentine
Well, it's finally here: "Slash & Friends" (the original working title for this project). The few reviews I've read are mixed. Some "fans" were crying out that it sucked and Slash had sold-out before it was even released and now that it has been released typically those same "fans" are still saying it sucks and Slash is a sell out. Then you have Classic Rock magazine, who has claimed it's the first great rock album of the decade. This might sound like mighty fine praise to some but given that the album was released in April 2010 the statement seems less impressive and sounds more like hyperbole to help promote an album they have a vested interest in (the album was a free UK-exclusive gift with a special Slash-themed issue of Classic Rock).
For my money ($7.99 + free shipping from BestBuy.com!), this is indeed a great album and I don't really get the "sell out" criticisms. Why is he a sell out? Because a GIRL sings on this album? Fergie has a great voice for rock 'n' roll and she proves it on "Beautiful Dangerous". If anything, I can see maybe cries of selling out coming from Maroon 5′s Adam Levine singing "Gotten". It's a decent song but if I didn't know better, I'd say it was a Maroon 5 song. Not much rock to it at all other than the solo. Then again, Slash has always flirted with pop stars. He's a guy that doesn't like to pigeon hole himself and goes to play with whoever wherever he thinks he'll have fun. Nothing wrong with that. He's not a sellout, he's just not close-minded.
For the most part, it seems like every song was written with that song's particular singer in mind. I know Slash already had ideas for songs before enlisting the troops but I'm also sure the songs were tailored to suit the vocalists. "Ghost" sounds like The Cult, "Crucify the Dead" sounds like the best Ozzy song in the last decade at least, "Promise" sounds like something Chris Cornell would have done in Audioslave, "Nothing to Say" could have been on Avenged Sevenfold's last album and so on and so on. In a way, this is somewhat disappointing for those that were looking forward to a bluesier guitar hero effort or for something similar to Guns N' Roses from Slash. There is NOTHING here that brings to mind anything GNR has done. I'm okay with that but maybe some backlash stems from people wanting Slash to have delivered something more akin to the original GNR since Axl has moved the hired Guns into heavier more industrial terrain.
Slash claims this is a rock album and for the most part he's right but songs like "Gotten" and "Saint is a Sinner Too" are pure pop that I can't imagine Slash would be playing without the chosen vocalists. I was worried myself when I saw the guest list for this album. The participants just seem so over the place I thought it would all be a big mess. Definitely not the case and there's a surprisingly low amount of filler with the two Myles Kennedy songs "Back from Cali" and "Starlight" being the only ones that really fall short with me. Kennedy is from the band Alter Bridge and he's the only singer that has two songs and I'm sure it's because he's the singer for Slash's touring band while promoting this album.
Everything else is decent at the very least while "Nothing to Say" featuring Avenged Sevenfold's M. Shadows and the album's lead "By the Sword" featuring Wolfmother's Andrew Stockdale are my favorites. "By the Sword" has a cool Led Zeppelin/Pink Floyd classic hard rock sound to it.
Despite Slash's insistence that this is a rock album, there's a bit of genre jumping and he dips his feet (fret?) into the pop realm but it's only done so in order to fit the singers. Even though this is a self-titled affair, Slash really isn't the star here. There's some good solos on this disc but this album isn't built around them. It's all about the songs as a whole and Slash (and friends) has delivered a very satisfying release that is much better than anything he did the first time he went "solo" with Slash's Snakepit.
I do have two disappointments though: Dave Grohl drums on the album but does not sing (he apparently has a thing against singing on other peoples' albums) and the U.S. version of this album does not feature "Baby Can't Drive" featuring Alice Cooper and The Pussycat Dolls' Nicole Scherzinger. It's a pretty cool song so what gives ?!
Highlights: "Ghost", "Crucify the Dead", "Beautiful Dangerous", "By the Sword", "Watch This Dave", "Nothing to Say"
http://www.slashonline.com/
http://www.myspace.com/slash
Buy it at Amazon.com

Buy it at CD Universe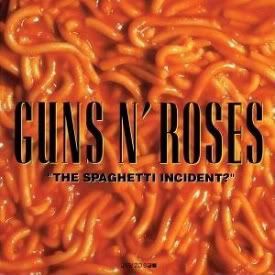 Guns N' Roses – The Spaghetti Incident? (1993, Geffen Records)
1. "Since I Don't Have You" [The Skyliners] … 4:18
2. "New Rose" [The Damned] … 2:38
3. "Down on the Farm" [U.K. Subs] … 3:28
4. "Human Being" [New York Dolls] … 6:48
5. "Raw Power" [The Stooges] … 3:11
6. "Ain't it Fun" [The Dead Boys] … 5:05
7. "Buick Makane/Big Dumb Sex" [T. Rex/Soundgarden] … 2:39
8. "Hair of the Dog" [Nazareth] … 3:54
9. "Attitude" [The Misfits] … 1:26
10. "Black Leather" [The Professionals] … 4:08
11. "You Can't Put Your Arms Around a Memory" [Johnny Thunders] … 3:35
12. "I Don't Care About You" [Fear] … 2:17
13. "Look at Your Game, Girl" [Charles Manson] … 2:34
Band:
Axl Rose – Lead Vocals, Keyboard, Kazoo
Slash – Guitar, Lead Vocals, Backing Vocals
Duff McKagan – Bass, Lead Vocals, Backing Vocals, Guitar, Drums
Gilby Clarke – Guitar
Matt Sorum – Drums, Percussion, Backing Vocals
Dizzy Reed – Piano, Keyboard, Backing Vocals, Percussion
Additional Musicians:
Michael Monroe – Lead Vocals
Carlos Booy – Guitar
Mike Staggs – Guitar
Richard Duguay – Guitar
Mike Fasano – Percussion
Eddie Huletz, Stu Bailey, Eric Mills, Rikki Ratchman, Blake Stanton – Backing Vocals
Produced by: Guns N' Roses, Mike Clink, Jim Mitchell
The last album that the so-called "real" Guns N' Roses would ever record together was a album of covers and thus, in my opinion, a bit of a downer due to the odd collection of songs. It was meant as a placeholder (much like GN'R Lies) to keep the fans satisfied until the next original studio album arrived. Of course, that album, Chinese Democracy, arrived FIFTEEN YEARS later with only Axl & Dizzy making the trip.
There's a strong punk influence on the album (I bet Duff was in heaven), but punk rock has never really been a favorite genre of mine. The real standout is the album's opener, The Skyliners' "Since I Don't Have You", which itself was kind of an odd choice for an cover album made up of mostly punk bands (and Charles Manson).
The parallels to GN'R Lies continue as Axl made sure to put another controversial track on the record (although it is unlisted on the album's track listing) — "Look at Your Game, Girl". It was written by Charles Manson. Supposedly, the rest of the band protested, but as usual, they folded to the demands of Axl who insisted this song be included. The only GNR members to perform on the track were Axl & Dizzy. Surprise surprise!
Anyway, this album is more of a curiosity than anything essential. Sad note for the old school GNR to end on.
Highlights: "Since I Don't Have You", "Ain't It Fun", "Hair of the Dog", "Attitude", "I Don't Care About You"
www.gunsnroses.com
www.myspace.com/gunsnroses
Posted in Guns N' Roses
Tags: Axl Rose, Charles Manson, Classic Rock, Dizzy Reed, Duff McKagan, Fear, Gilby Clarke, GNR, Guns N' Roses, Hard Rock, Heavy Metal, Johnny Thunders, Matt Sorum, Metal, Music, Nazareth, New York Dolls, Punk, Punk Rock, Rock, Rock & Roll, Rock 'N' Roll, Slash, Soundgarden, T. Rex, The Damned, The Dead Boys, the Misfits, The Professionals, The Skyliners, The Stooges, U.K. Subs