Blog Archives
Accept - Stalingrad
( 2012, Nuclear Blast Records)
1. Hung, Drawn And Quartered
2. Stalingrad
3. Hellfire
4. Flash To Bang Time
5. Shadow Soldiers
6. Revolution
7. Against The World
8. Twist Of Fate
9. The Quick And The Dead
10. The Galley
Band:
Mark Tornillo - Vocals
Wolf Hoffmann - Guitar
Herman Frank - Guitar
Peter Baltes - Bass
Stefan Schwarzmann - Drums
Producer: Andy Sneap
A reinvigorated Accept continues to storm through the world pummeling everything in sight with their old school heavy metal tank of destruction. Bringing Mark Tornillo into the was a stroke of genius as he really sounds right at home backed by one of Germany's best and heaviest metal masters.
Although I didn't find Stalingrad to hit me as immediately as the pummeling Blood of the Nations did, this album is essentially "Blood of the Nations, Part 2″, even if it is a bit more melodic. In the end though, I would rank this album to be every bit just as pleasurable as Blood of the Nations. Make no mistake that Stalingrad is no-frills traditional pounding heavy metal and it's legitimate (i.e. they actually helped to create the genre and aren't just ripping it off 30 years later) that we should all be thankful for.
Lap it up while you can, who knows how much longer the old masters can continue to crank 'em out like this?
Highlights: "Hung, Drawn And Quartered", "Stalingrad", "Hellfire", "Flash To Bang Time", "Shadow Soldiers", "Twist of Fate", "The Quick and The Dead"
http://www.acceptworldwide.com/
http://www.facebook.com/accepttheband
Buy 'Stalingrad' at Amazon.com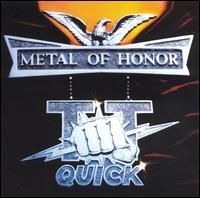 TT Quick – Metal of Honor (1996, Megaforce Records)
Originally Released: 1986, Megaforce Records
Track Listing:
1. "Metal of Honor" … 3:35
2. "Front Burner" … 3:25
3. "Hard as a Rock" … 3:59
4. "Child of Sin" … 3:01
5. "Asleep at the Wheel" … 2:59
6. "Come Beat the Band" … 2:47
7. "Hell to Pay" … 4:13
8. "Queen of the Scene" … 3:44
9. "Glad All Over" … 3:14
10. "Siren Song" … 4:06
Band:
Mark Tornillo – Vocals
Dave DiPietro – Guitar
Walt Fortune – Bass
Erik Ferro – Drums
Produced by: Eddie Kramer, Michael Wagener, Alex Perialas, Rob Hunter
Good AC/DC-inspired power metal that I've listened to quite a lot over the years since I found it brand new and cheap. Too bad that band didn't stick around for the long haul, even if they did release a 2000 "comeback" album.
Highlights: "Metal of Honor", "Front Burner", "Hard as a Rock", "Child of Sin", "Hell to Pay"